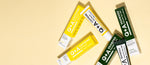 They say that your eyes are the window to the soul, so it makes sense to want the window frame to look just as good! Our eye area can be the first thing to betray our tiredness and age (and unfortunately hangovers!), so it's important to show this area of our skin just as much care as the rest of our face and body, if not more. Which leads me nicely to the topic of today's 'versus matchup', the Q+A eyecare products! Rising from the ocean, doing the most perfect wet hair flip you've ever seen to reveal smooth, bright eyes is the Seaweed Peptide Eye Gel. Soaring effortlessly past is Caffeine Eye Serum, already on a morning run and making the most of the day in a true 'I woke up like this' moment. Who will be sitting pretty in your bathroom cabinet at the end of the day?
Who are we talking to?
The products we use under and around our eyes don't necessarily adhere to skin types in quite the same way as most of our other products, so picking the right one for you requires you to get to know your skin a little better.
If you've ever felt your under-eye area puff up like an inflatable life jacket, stick to the shore with Caffeine Eye Serum. Designed for normal to oily and sensitive skin types, this sunshine yellow serum can both refresh and brighten your skin for the day ahead, and calm and tone as the sun sets. After you've gotten into a routine, expect youthful, smooth skin that wouldn't bat an eye at that 6am start.
Worried that the skin around your eyes is starting to look like your hands after too much time in the sea? Not to fear, Seaweed Peptide Eye Gel is here to ensure your fun isn't ruined by worrying about wrinkles and signs of ageing, dark circles or dullness! Hydration and firmness will bubble to the surface, perfect for stressed, normal and oily skin types to renew your under-eye area. You didn't happen to take a dip in the fountain of youth, did you?
What are we looking at?
You wouldn't pack the same bag for a picnic or a swim at the beach, would you? What we've packed into these two eye revivers makes all the difference in your journey to a healthier, brighter complexion.
Whether you love or hate a coffee, you must agree Caffeine certainly knows how to inject some energy into your day! In fact, it helps to improve circulation, which in turn speeds up skin repair and moves those dark circles right along - no loitering here! Cool off with refreshing Cucumber Water, nourish and lift with Pomegranate, and strengthen the delicate under eye area with antioxidant rich Green Tea whilst protecting against environmental stressors. Us beautiful beach babes love a good 'B' ingredient, which is why Betaine and Biosaccharide Gum take this eye serum to a new level. Betaine protects your cells against damage by keeping your skin hydrated, protecting against pollution, so you can continue to enjoy the day's activities worry free. With a to-do list longer than your own, Biosaccharide Gum knows how to multitask, helping to repair damaged skin, calm discomfort, reduce signs of ageing, moisturise, and soften the skin.
Seaweed Peptide has plenty of its own treasures too. You've been invited to the Octopus' garden, where he's been growing Algae, Bladderwrack Seaweed, Sea Lavender, Horsetail Kelp, and for something a little closer to home, Thyme. The blend of seaweed extracts helps to protect against moisture loss, and support all of Aloe Vera's hard work. Not just for cooling and soothing skin (although it is amazing at it!), Aloe Vera helps to repair and renew skin by providing  hydration and creating a thin protective barrier over your skin to ward off environmental stressors like pollution and dust. Whilst Witch Hazel isn't going to steal your voice, it is going to ward off redness, puffiness, and discomfort and gift you some antioxidants instead! And finally, arguably the most so-fish-ticated ingredient (sorry, not sorry) is our amazing Peptide! Synthesised from seaweed, these chains of amino acids signal to your body to make new collagen; lifting, plumping and moisturising your skin from within. Say goodbye to fine lines, we're not going to sea them for much longer... (still not sorry!)
Which texture do I want?
Many of us may automatically think of eye creams when it comes to eyecare products, but not Q+A! So why have we not followed the footsteps in front of us in the sand? Just like the difference between serum and moisturiser is an important consideration in your routine, so is choosing the right format of eyecare product. In a light, liquid form, Caffeine Eye Serum spreads easily across your skin and is quick to absorb - perfect for those who are always on the go! The skin around your eyes is delicate, and a serum can help avoid a heavy feeling dragging you down or overwhelming your skin. Plus, the roller ball helps to give you a mini massage, which is what we all deserve at the end of the day! On the other hand, we have our thicker Seaweed Peptide Eye Gel. Still light, absorbing quickly into the skin, a gel provides a little more external protection against irritants and moisture loss. Plus, if you prefer to dab on products with your fingertips, the long neck allows you to squeeze out just the right amount. Remember, gently does it when applying eye products!
Either way, the feedback we've received suggests popping either of these tubes in your fridge for a super cooling effect  can help reduce puffiness and discomfort even further!
The tide's coming in...
We're reaching a gorgeous sunset ahead, so which are you leaning more towards? Our get-up-and-go Caffeine Eye Serum to brighten, depuff and tighten your skin, or soothing Seaweed Peptide Eye Gel for youthfulness and protection? No matter your choice, either product will guarantee brights eyes, even as the sun goes down!
Amy @ Team Q+A
 

 

amy.robson@ellipsisbrands.com

Aspiring author, craft addict, and Q+A's eCommerce Coordinator