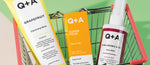 2022 is here! I hope, despite the continuing turbulence around isolating and keeping our friends and family safe, you had a lovely NYE and the first two weeks of the new year have been positive. I'm sure many of us have taken the time to write down our resolutions for 2022, which means a lot more new, whether that's new habits, a new style, new friendships, or something else you've been meaning to start! But when it comes to your skincare routine, is now the time to add new products to your list?
To help with this question, we have our founder, Freddy, offering his insight, so let's get to it!
Consistency, consistency, consistency!
We like to make this point often, and that's if your skin is liking your current routine, stick to it! However, if you feel something could be gained by changing up your routine to better address your concerns, consistency is still an important thing to keep in mind. Products don't work miracles overnight…
Freddy: New launches are everywhere in January, so it can be tempting to completely discard your current regime and invest in new products. But if your regime is working, and your skin concerns are being targeted, hold off, and stick to what you know. It's also much less wasteful, which is a much better choice for the planet. If you feel your skincare needs a new year refresh, try adding in one new product at a time, rather than completely discarding your regime and starting a fresh. And remember, you may not see the results of your new product until mid-February!
We also recommend switching products in and out, rather than extending your routine from five or six steps to ten or eleven. Not only will this save you plenty of time, but we're not overwhelming our complexions and potentially causing some unwanted congestion, or a clash of ingredients! We've got lots of multi-tasking products in our range that deliver multiple benefits, like our Vitamin C Brightening Serum or our Collagen Face Cream, which will save on steps but maximise skin-benefits.
Consider the season
Midwinter in the UK or US, you're likely experiencing the harsher weather and temperatures, which can cause your skin to be sensitised and stressed.
Freddy: Going in strong with new actives, especially acids, when your skin is already sensitised can lead to further skin barrier damage, which is already worsened by winter weather.
Alternatively in the southern hemisphere enjoying the heat of summer, you might be seeing your usual skin concerns increase in noticeability, and not want to switch out the products which are specifically designed to help. If you want to add an acid to your regime, why not try our Apple AHA Exfoliating Gel, which is extra-gentle. Use this no more than 2-3 times per week for best results.
Stay a skintellectual!
Whilst, like Freddy mentioned, January is prime time for new launches and plenty of exciting products popping up on our radar, we'd encourage you to take the time to know what exactly you're buying first. Research and education is just one important element of the skin care sphere (and I'm not just saying that as the person writing these blogs!), so take this month to read into the products you're planning to try.
Freddy: Analyse your skin concerns and read up on the ingredients that are best for this. Then plan your regime for both the AM & PM, slowly adding in new products. If the temptation is too much, purchase new products that contain ingredients you already know work well for your skin, combined with new actives you've perhaps not tried before. Be patient and consistent, and results will follow.
This also allows you to easily recognise the most beneficial ingredients for your skin type – it's one of the reasons they are so clearly called out in our product name!

Why not head to your notes and start recording the ingredients that work for you, or that skin care experts recommend for your skin type? Use this as a guide when shopping for new products for the best results! Plus, you can share your newfound knowledge with friends – who doesn't want to be the skintellectual of the group!
So here's to gorgeous, glowing skin in 2022, and spending time brushing up on our skincare knowledge to avoid any skin faux pas or mishaps! And as always, if you're unsure about how to manage your skincare routine in the new year, our customer care team are here to offer their suggestions, please don't hesitate to get in touch with us.
 

 

amy.robson@ellipsisbrands.com

Aspiring author, craft addict, and Q+A's eCommerce Coordinator