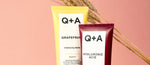 Like many of our blogs, this questions has a very straight forward answer… Yes! But where's the fun in that? Let's go through the benefits of using two cleansers in your PM routine, how to master the double cleanser, and see if it's right for you!
If you're not super obsessed with skincare like we are at Q+A, double cleansing might seem like just a good way for us to sneak an extra Q+A cleanser into your regime, but remember we're a brand that values simplicity! We wouldn't be praising double cleansing unless we thought it carried some serious skin-benefits.   
 Double-cleansing involves incorporating two unique cleansers into your regime that perform different functions for an all-round cleanse, rather than cleansing twice with the same product.
Cleanser One – Balms, Oils and Micellar Waters
Your first cleanser, the first step of your routine, is here to provide some serious removing power. Go for an oil-based cleanser for removing power - oils stick to the makeup, SPF, excess sebum and dirt on your skin, allowing them to be easily rinsed away. This is where our new Grapefruit Cleansing Balm comes in! It's wax-free, natural oil-base gives it some serious makeup melting powers. 
Double cleansing is often directed specifically at makeup wearers, but even if you just pop outside for a walk around town, pollution in the air can start to collect on your skin, and bacteria can threaten the creation or worsening of spots and acne. We'd recommend introducing double-cleansing into your post-workout regime to remove bacteria and sweat that may have built up during your gym session.
Cleanser Two
Your second cleanser, a water-based product, is now able to get deep into your pores to clean out that pesky bacteria. Choose a water-based cleanser for optimum results. These cleansers work best when they contain hydrating and nourishing actives, as now that you've already removed any barriers on your skin like makeup or SPF, they can absorb easily and get to work making your skin glow. Not to mention, now your serums and moisturizers have the best chance at absorbing well too.   
 A general rule of thumb is to cleanse for at least a minute, taking the time to massage the product into your skin. All cleansers are different, but most cleansing balms and oils should be applied to dry skin for optimum results! Cleanse one can come to an end once your your microfibre pad or face cloth is coming away completely clean. Your skin should be feeling fresh and free of residue, with no panda-eyes in sight!
If you have dry or sensitive skin, you may be concerned you will strip your skin of valuable moisture by cleansing twice. But trust me, that won't happen if you invest in cleansers that are right for your skin type! In Q+A's opinion, the best cleansers are free from SLS and other stripping cleansing agents, and use moisturising ingredients to make sure they're giving back to your skin as they cleanse. Our super hydrating duo Grapefruit Cleansing Balm and Hyaluronic Acid Hydrating Cleanser might be just what you're looking for! Grapefruit works alongside creamy Cocoa Butter and one of our favourites, Squalane, to not only be gentle to your skin, but give you that hydrated glow. Not only is Hyaluronic Acid amazing at drawing moisture into your skin cells for longer lasting hydration, we use two types of the molecule to make sure you get double the benefits; from the skin surface to deep within the supporting cells.
If you have oily or combo skin you might ask, won't the oil-based cleanser add to my oiliness? No, thankfully not! The oils are just there to pick up all the product, and will disappear down the drain when washed away. Hydrating your skin with light, deep working actives like Hyaluronic Acid can also help to regulate sebum production by letting your skin know that it's not in need of as many oils to keep moisturized.
It's as easy as that! If you've not jumped on the double cleanse train yet, this is your ticket.
 

 

amy.robson@ellipsisbrands.com

Aspiring author, craft addict, and Q+A's eCommerce Coordinator